Country Wood Furniture

We offer medium to high end quality furniture at a great value. Our products include bedroom furniture, bedroom sets, dining room furniture, dinette sets, dining room sets, dining tables, dining chairs, kids furniture, kids bedroom furniture, leather sofas, sectional sofas, accent tables, storage benches, curio cabinets, entertainment center furniture, and more
About Our Company
Country Wood Furniture Has Been Serving The San Jose Bay Area For Over 20 Years. We Offer Great Deals For Furniture Buyers In The San Francisco Bay Area. With Over 50 Brand Name Manufacturers To Choose From Your Sure To Find That Something Special Right Here. With Our Discount Prices You'll Save Lots Of Money On New Furniture. Feel Free To Review Our Products Online Then Come To Our San Jose Store Location For More Items To Choose From. You'll Be Happy To Shop Here Because Our Furniture Is On Sale Everyday. No Appointment Needed.
How We Work
So many of the online sites you see don't have a showroom. Some work out of warehouses, public storage sheds, and some just want you to trust them from a garage. We have a 10,000 square foot showroom with many items on site, but not all items. We try and advertise what we have on the floor or at least are able to show you a sample (dresser, nightstand etc..) Our website allows us to show all the items that our manufactures produce, as we want to give you a full selection.
Delivery
We offer delivery service. We deliver to all Bay Area Cites. Monterey to Marin. Fremont to Stockton and more. Yes, we do have a deliver charge as we feel it is fair to pay our delivery drivers a fair wage. We offer several ways to have your furniture delivered. Drop delivery or set up delivery.
Once Ordered
Once you place your order we will do everything in our power to get your furniture to you in a expeditious manner. We do stock some items and others can come with in days. Our top three lines Coaster, Homelegance, and Good Trading ship with in 7-10 days (if in stock). Some people order on Monday and have it on Wednesday if we don't stock it. Custom items (bookcases, entertainment) will take longer.
Furniture Pick Up
Your welcome to pick up your furniture at our store. We will help you load your items into your vehicle. We won't tie down any of the items (insurance reasons) We also don't supply heavy rope, tie downs, or blankets. Most items are boxed for their protection not all.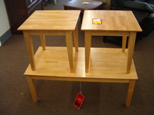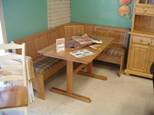 Furniture Search
Our Furniture
We offer medium to high end quality furniture at a great value. Our products include bedroom furniture, bedroom sets, dining room furniture, dinette sets, dining room sets, dining tables, dining chairs, kids furniture, kids bedroom furniture, leather sofas, sectional sofas, accent tables, storage benches, curio cabinets, entertainment center furniture, and more.